Sat, Nov 11, 2023
1:00
Build and program a robot to follow a line and not bump into the robot in front of it and then join us for the parade, or just come watch and celebrate all the hard work that the kids have put into their robots!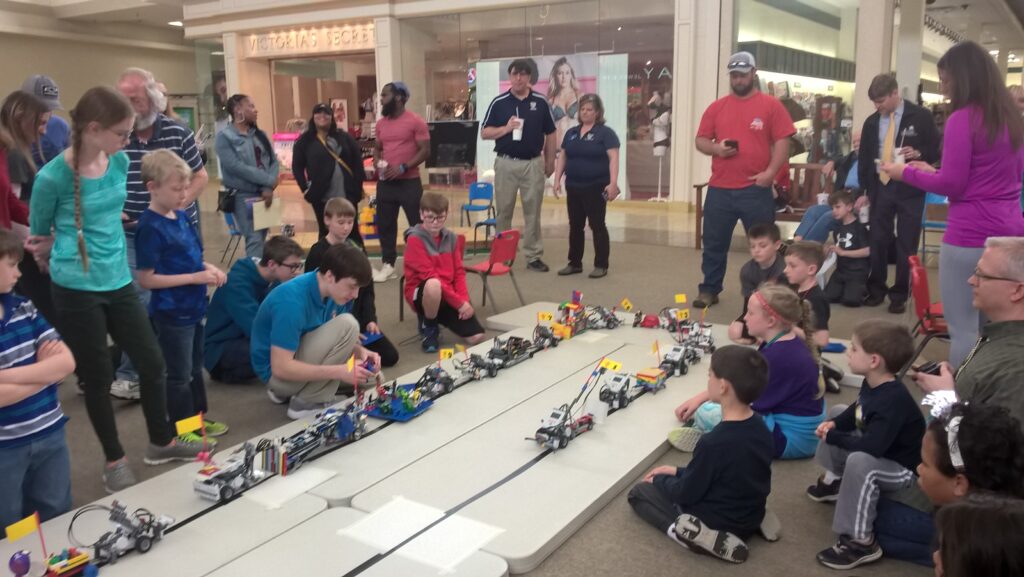 The Details
Team Registration and Qualification
A team can enter only one robot float. If a coach has multiple floats, please register multiple teams. Team registration is open online at LabSpaceRobotics.com. Students in grades K-12 may participate.
Each team must check in between 10:00-11:30 and test their robot on the actual parade route. When the team's robot passes the test, then the float ID (flag) will be given, which allows the robot to participate in the official parade. Remember to bring your computer and program in case you need to make changes. (LabSpace teams may use the computers in LabSpace). All testing should be completed by 11:30. The parade will begin at 1:00.
Robot Requirements
Robot type: any, as long as it is fully autonomous. Number of robot controllers, sensors, or motors: unlimited. Each robot may have its own sponsor logos. Each robot is required to carry a small flag with a number, which will be given if the robot passes the parade route test. There is no limitation on height or weight. Width: should be less than 35cm The rear part of your float must have a flat bumper at least 2.5 inches tall and 5 inches wide and be 1 inch off the ground so that the robot behind is able to sense your robot using its sensors. Length: Longer robots will have a difficult time turning the corners. Be sure to check that your robot can follow a straight line, but also that it can make the corners. Think about how you would attach your float to make the corner.
Program requirements:
1. Robot must have a reliable program to follow a black line on a bright surface.
2. Robot must have the ability to detect a vehicle in front of it and stop; then automatically restart when the vehicle in front has cleared.
Official Parade Route
The route will be created with either white tables with a black line (electrical tape) in the center or white shower board with black electrical tape. Corners will be rounded. The size of the course will be determined by the number of robots. The tape line will be as consistent as possible, but it is possible that there will be 2 lines of tape, especially on the corners. The width of the black line should be considered unknown.
What's a Robot Parade?
Students build and program robots to follow a line and not bump into the robot in front of them. Then, they decorate them, or design floats for them to pull. We line them up on the course and watch the parade!!

You can sign up for a Robot Lab at LabSpace and use one of our robots, or you can bring your own that you programmed at home or school.
The event is free, but registration is required to hold your place.